Senator Pens
In a recent study* "Usefulness" came out as the number one quality that makes the perfect promotional gift. Coupled with the fact 66% of those asked had a promotional pen somewhere on their desk, it's fairly obvious to see that pens rate highly on the useful promotional gift scale. Durability rated highly too – showing that long-lasting quality is also a desired attribute of promotional items.
"The bitterness of poor quality remains long after the sweetness of low price is forgotten." – Benjamin Franklin
The main advantage of the range of Senator pens we carry is that they're durable, contain long lasting ink and have a crystal clear high print quality. Every plastic Senator pen is fitted with "magic flow" long life ink refills, with print guaranteed to last the lifetime of the pen. Not only that but they have super cool names like Dart, Liberty, and Challenger which we think adds kudos to an already impressive brand.
Available in a huge range of colours, these promotional pens have matt, soft touch, clear and polished finishes so are suited to any business. The designs can be personalised to promote your logo or for an event. Due to fast turnaround times, if you change your branding or need extra items it's easy to order a new batch in a hurry.
Another huge advantage of promotional pens is that they're a relatively low-cost investment to promote your business. Ordering in bulk typically means they're competitively priced and accessible for all budgets.
Brands naturally want to benefit from higher levels of advertising exposure. With a Senator pen you can because the long life ink refills typically contain up to 6-16 times more ink than an imported pen so will stay on someone's desk for a more lengthy period. Not only is it useful to your brand as a promotional tool but it's something that the user will enjoy because of the quality and practicality of the product.
Senator pens are safety compliant and environmentally responsible, containing up to 95% recycled materials. The Senator Nature Plus offers a range of certified biodegradable materials. Green brands might like to know the PLA for the bio-plastic used in Nature Plus is derived from sugar cane – a renewable and non-finite raw material. With both safety and eco-compliance highly rated and forward thinking, these low carbon footprint pens are beneficial to brands and the environment. A surefire way to make a lasting impression on your clients and stand the test of time
A Big Brand Used Throughout The World
Whether you know the name or not, at some point you will have used a Senator pen. In fact, there's probably more than one in your office right now. We're proud to use them and think you will be too. But why?
A Rich Heritage
With over 95 years of experience of integrity and creativity, Senator is the ultimate promotional partner for any brand. It was founded it 1920 and now operates in over 80 countries worldwide. Senator was brought to the UK & Ireland over 30 years ago now and is still as successful as it was back then.
Quality & Ethics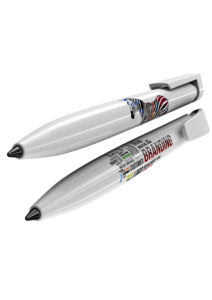 Senator is ISO 9001 and ISO 14001 accredited which is an active commitment towards consistent quality in a sustainable way. They've been awarded a record 57 UK accolades since 2006 for service excellence.
Senator is part of BSCI (The Business Social Compliance Initiative) which supports companies to drive social compliance and improvement in their global supply chains. It's important to us that our suppliers take social responsibility as seriously as we do, and Senator proves they go above and beyond.
1 in 3 ball pens manufactured in Germany is a Senator pen; they are the European number 1 and one of the top 3 promotional pen companies worldwide. They've proven you can be a large company and still focus on individuals, perfectly matching our people over profits approach.
Senator manufacture their pens in their Technology Centre in Germany. However, they have printing facilities based all over Europe. Unlike some companies, they do not want to minimalize investment and quality by relocating to middle eastern countries, where workers are paid unfair wages. They want their employees to feel valued, just like we do.
Choice & Innovation
The Senator range of pens is huge. There is something for every brand and budget. Senator are one of a handful of pen manufacturers who aim to bring new products to the market, year on year. Some pen lines can offer up to 50 colour choices and mix and match services. If you still can't find your right shade, they offer a Pantone Matching Service as well.
Not only this, but Senator offer a variety of printing methods; laser engraving, 360-degree digital printing, etching, digital clip printing, screen printing and pad printing. Every pen is going to be your pen with no compromises.
Whatever your brand is, Senator offer a pen that suits your preferred writing style.

Fair Pricing With No Compromise On Quality
Senator is, in their own words, about 'bridging the gap between quality and affordability' and by offering such a variety of pens and printing techniques, there are pens available to suit any budget. When you want something for a small selection of valued customers or want your office to proudly say your name, there are options for you.
The spectacular print you can touch: Senator High Definition Print. Their worldwide unique HD prints impress with raised surfaces and a three-dimensional visual effect with unlimited colours and gradients to guarantee a visually brilliant brand image.
After seeing all these great aspects of their business, you can now see why we love working with Senator so much and why their pens make the ideal choice for branding into the promotional pens that you desire.
Be Bolder With Xtreme Branding From Senator
Senator Xtreme Branding is a premium 360 quality digital wrap, which applies an accurate reproduction of photo prints up to 12000 dpi. The digital wrap is guaranteed to last the lifetime of the pen.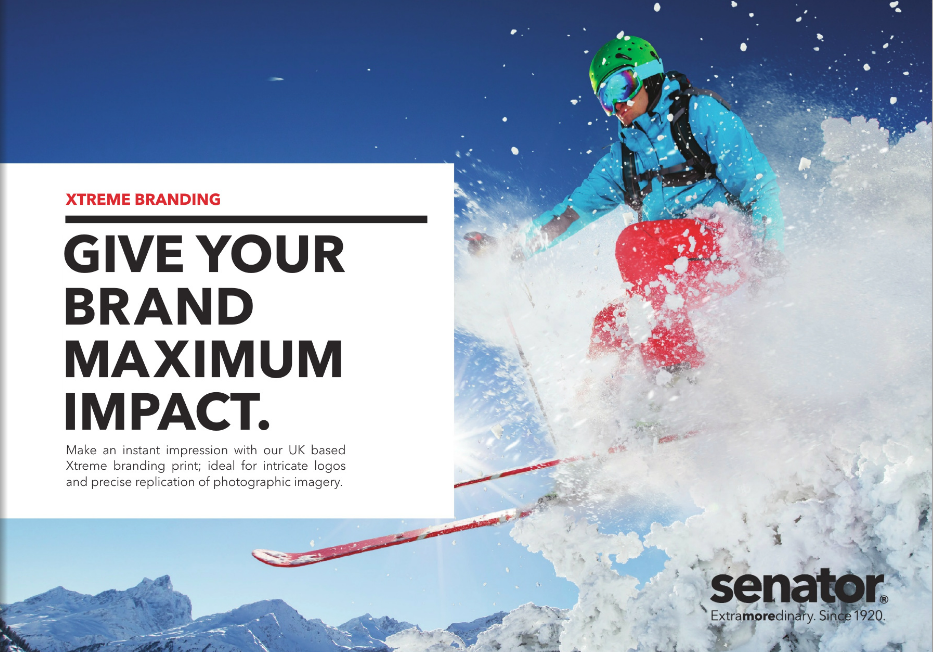 We're big fans of Xtreme Branding, but why should you apply it to your new custom Senator pens?
8 Reasons to go Xtreme Branding
UK favoured full 360-degree premium quality digital wrap

Guaranteed to last the lifetime of the pen

Accurate reproduction of photographic prints (1,200dpi)

Unlimited colours and gradients

Quick lead-times, printed in the UK

More economical for multi-coloured prints

Low-cost alternative to Pantone Matching

Mix and Match polished barrels with polished and clear components (where applicable), plus additional metal and soft components
More Prolonged Exposure & Wiser Investment With Senator Magic Refills
Senators Magic Refills are effective and long lasting, they set an unprecedented industry standard.
As you can see, Senator pens make a smart investment.
An Environmentally Friendly Approach
Senator are early adopters of R.E.A.C.H. It is an EU programme to ensure by 2018 only tested and registered products are used. This is so harmful effects on human and environmental health are minimised. Senator already reaches these standards. They also host a fully operational Corporate Social Responsibility Programme.
Senator strives to be as environmentally friendly as possible, so all pens and refills are road freighted from their manufacturing plant in Germany to their UK Harlow base. In Germany, their pens are manufactured by Water Power, using the River Main and this approach give them the lowest carbon footprint of any promotional pen on the market.
They also focus on recycling; all their plastic pens contain part-recycled materials and all barrels are recycled, although they are currently developing pens that contain more recycled materials.

Senator's New 2018 Eco Range
As part of their ongoing commitment to being environmentally friendly, in 2018 Senator launched a new range of eco friendly pens that are made from a combination of 95% genuine recycled materials, biodegradable plastics and all incorporate magic flow refills, reducing the amount of plastic needed to keep pens running for longer.
The aim behind this new range of eco friendly pens is to:
Reduce carbon footprint

Increase the use of environmentally friendly materials

Offer long life refills to reduce waste
An Eco Friendly Approach To Pen Refills
Senator plastic pens come fitted with magic flow long life refills, as manufacturers look to move away from single use plastics. Prints are guaranteed to last the lifetime of each pen, and so refills are available so that only the cartridge, and not the whole pen is thrown away.
As responsible brands look to wage the war on waste, removing single use plastics from products is a great way to get more out of each pen.
Nature Plus
Nature plus is one of the new recycled products range. It's a matt push ball pen made from a biodegradable material. It offers a shine free finish barrel and clip surface and is available in a choice of 10 different colours.
As more companies look to reduce their plastic waste, the Nature Plus is proving to be a popular best selling product. Below is a guide so you can see exactly how each Nature Plus pen is made!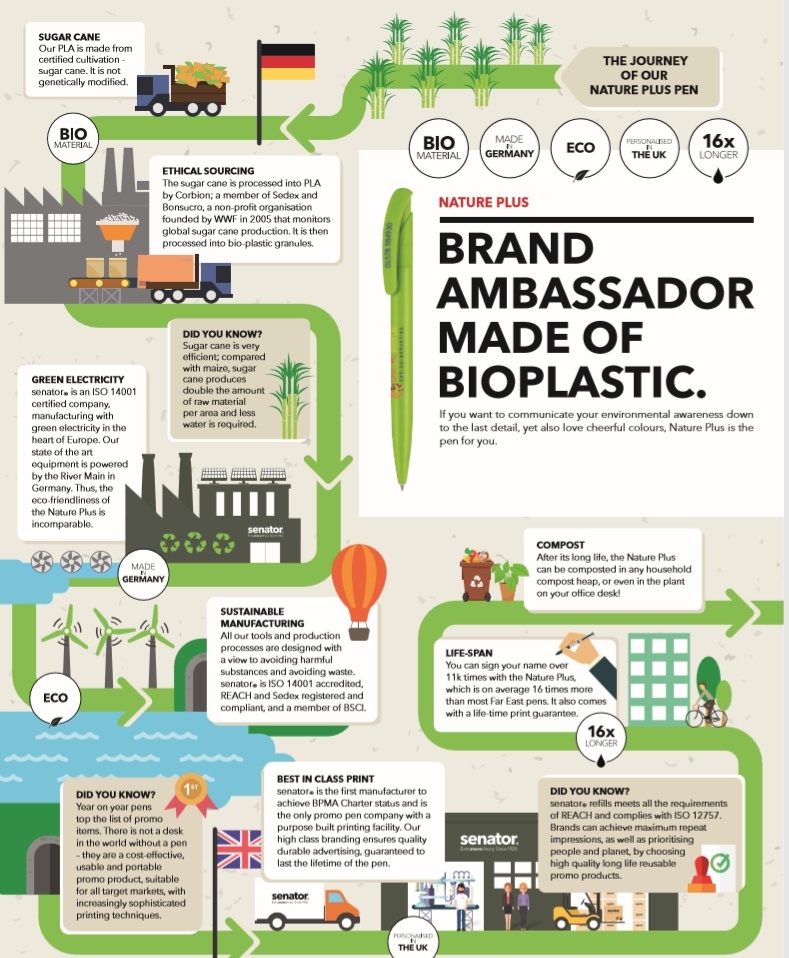 New for 2019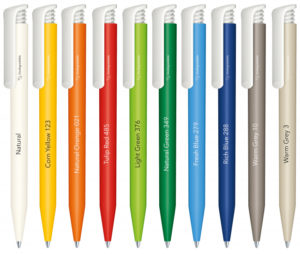 The Senator Super Hit has been a popular choice with us and our customers since its introduction. It's been one of our go to, reliable pens and one we often use ourselves for exhibition giveaways and direct mail campaigns, so we're excited to see the new Super Hit Bio Ballpenadded to the range – It's great news for us, for you and our audiences!
Recent research conducted at Marketing Week Live and B2B Marketing Expo 2018, showed 58% of respondants were influenced by the impact of plasctics on the environment, with 10% of those looking for alternative products, such as biodegradable options, 29% Eco / Environmentally Friendly and 32% Recyclable as well as other eco materials available.
The Super Hit Bio comes in a range of colours, with a biodegradable Matt Barrel, with a contrasting opaque polished white clip to help your brand stand out.
The barrel of the Super Hit Bio is made of a PLA-based bioplastic; a biodegradable material (compostability according to EN 13432). Derived from renewable and non-finite raw materials (sugar cane), once again making it that little bit extramoredinary.
It's an ideal pen for your environmentally conscious brand.
senator® Magic Flow refills
The refill is a decisive part of the ball pen and contributes considerably to the success of the product. Therefore, when choosing a promotional ball pen, its inner values should be a primary consideration.


Brands naturally want to benefit from higher levels of advertising exposure. With a senator® product they can, because senator® refills typically contain up to 6-16 times more ink than an imported pen.

Thanks to the premium quality of the ink, senator® refills also provide a continuous smooth and even writing experience, with no spots of ink.


Not surprisingly, senator® refills are non-carcinogenic and are tested under stringent quality criteria to the highest demands. All refills contain fixed minimum filling quantities and are indelible to ISO 12757 1 + 2 or ISO 14145.

BALL PEN REFILLS


senator® magic flow X20 refill (1.0 mm)

senator® magic flow G2 refill (1.0 or 1.4 mm)


senator® gel refill, G2 (1.0 mm)


senator® metal refill, G2 (1.0 mm)

Each senator® ball pen is equipped with the perfectly matching refill. We only use tested and standardised quality refills and guarantee:

Filling amount approx 250mg (X20), 700mg (G2)
Indelibility to ISO 12757-1 + 2
Compliance with customary refill systems

ROLLERBALL REFILLS

senator® plastic safety rollerball refill

senator® metal safety rollerball refill

A characteristic of our senator® rollerball refill is the long "Cap-Off" time.

A rollerball can easily be left on the table without its cap and will start writing at any time.

Filling amount approx 233mg
Indelibility to ISO 14145